Anú Pictures is an independent film production company established by New York and Ireland based filmmaker Dónal Ó Céilleachair to synthesize over 25 years of experience across the independent film landscape.
Projects by Anú Pictures represent a fusion of long-established cinema methodologies with the latest in digital technologies, embracing new narrative possibilities and ever-evolving strategies for distribution.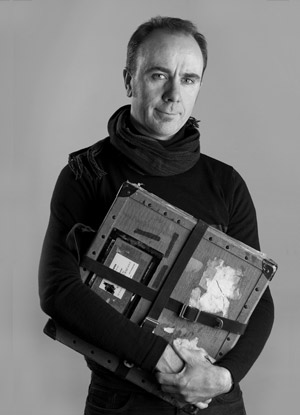 Dónal Ó Céilleachair is an Irish Filmmaker who lives between New York & Ireland. He is a graduate of DIT & Trinity College, Dublin and has studied film and the arts at NYU, School of Visual Arts, Cooper Union and Film/Video Arts in NY.
Dónal's wide-ranging international experience – from across the independent film landscape – includes over 50 fiction, documentary and experimental films in a diversity of roles over the past 25 years.
*Surname pronounced 'O-Kay-Lee-Ker'        Photo Courtesy of Con Kelleher
FILMMAKING
Director
The Red Book; Jung's Myth for our Times
2020
(In Development)
Director
Le Chéile (Together)
2019
(In Development)
Director
Adventures of a Waterboy
2018
View
Director
Camino na Sáile (Camino by Sea)
2014 - 2017
View
Director
Invoking Ireland (Ailiu Iath n-hErend)
2016
View
Director
From the Land of Múscraí
2016
View
Creative
Consulting
Pushtar
2015
View
Director
Ó Chúil Aodha go hOileán Í
(From Coolea to Iona)
2014
View
Director
Tadhg McSweeney, Painter (A Film Portrait)
2014
View
Director
Aisling Gheal (Bright Vision)
2013
View
Director
Dreamtime, Revisited
2012
View
Producer &
Co-Director
Scéalta Mhuscraí (Muskerry Stories)
2011
View
Editor
A Burning Question
2010
View
Editor
Eco-Eye Series for RTÉ
2009 - 2016
View
Director
3-TRIÚR - Ag Cuardach Crot Ceoil
(In Search of Musical Form)
2009 - 2011
View
Editor
Who Do You Think You Are? RTÉ Series
2009
View
Editor
BBC Newsnight Spot
2009
View
Artist-in-Residence
Peidhleacáin Solais (Butterfly Light)
2008
View
Co-Director
& Producer
i, of k (Imitation of Kiss)
2001/2007
View
Director
Prelude / Préludio
2008
Editor &
Associate Producer
The Matador
2007
View
Creative
Consulting
American Furry
2007
View
Creative
Consulting
The Unicorn
2007
Editor
Tootie's Last Suit
2006
View
Director
Un Peu Moins (A Little Less)
2006
View
Editor
Member of the Group
(A New Orleans Cinderella Story
2006
View
Editor,
Associate Producer
& Sound Designer
Journey Into Buddhism Trilogy
2003 -2005
View
Editor
Moving Parts
2005
View
Director
With Wind & White Clouds
2005
View
Editor
Three Soldiers
2005
View
Creative
Consulting
Richard Foreman :
The Ontological Cowboy
2005
View
Editor
Gobi Women Song
2005
View
Director
Vernissage
2004
View
Editor
Prajna Paramita
2004
Creative
Consulting
Invisible
2004
View
Editor
He Raised as a Flag his Head Against the Wind
2004
Director
Empire 2
2003
View
Director
IZTAPALAPA -
Jesus of Mexico City
2003
Director
CUZCO 1999
1999-2003
View
Co-Editor
Marathon
2002
View
Assistant Editor
Twin Towers; A History
2002
Co-Director & Producer
WAR OF THE WORLDS
2001
View
Editor
POV - Behind the Lens Spots
2001
Contributing Director
NIGHT ON EARTH
2000
Associate Editor
The Simian Line
1999
View
Edit Room Assistant
Music of the Heart
1999
View
Edit Room Assistant
Gunshy
1999
View
Assistant Editor
Fireflies
1998
Editor & A.D
Come To
1997
Assistant Editor
Under the Bridge
1996
View
Director
Remnants of Forgotten Memories
1995
Assistant Director
LOST
1994
Director
The Empty Space
1993
Director
Fornication Under Consent of the King
1991
AWARDS + EDUCATION
19th European Film
Festival of India
Aisling Gheal Selection
2014
Cork Film Festival
Cork Shorts Award
2014
Irish Arts Council
Artist Bursary
2013
Access Cinema
Michael Dwyer Award
2013
NCAD/GaelChultur,Dublin
Diploma in Teaching Art through the Irish Language
2011 – 2012
Film Video Arts (FVA)
Avid Media Composer Training Workshop
1997
University of Havana, Cuba
Certificate in Intermediate Level Spanish
1997
New York University (NYU)
Intensive Film Workshop
1996
Film Video Arts (FVA), NY
Sync-Sound Film making & Film Editing Workshop
1994
School of Visual Arts (SVA), NY
16mm Film Production, Painting, Still Life, Life Drawing & Illustration
1992 – 1993
Cooper Union, NY
Painting, Figure Drawing & Abstract Drawing
1990 – 1992
DIT & Trinity College, Dublin
MA / BSc
1994 / 1990
TEACHING + CINEMA WORKSHOPS
Ionad Cúltúrtha / Cultural Centre
Cork
Artists Moving-Image Workshop
'From the Land of Múscraí' Project
2015
Cork Film Centre
Mentorship Programme Co-ordinator
2012 - 2014
Sculpture Factory, Cork
Artists Moving-Image Workshop
2011
Ionad Cúltúrtha / Cultural Centre
Cork
Cinema Workshop for Adults
'Muskerry Stories' Project
2012
Cork Film Centre
Mentor-in-Residence
2010
IFI, Dublin
Seachtain na Gaeilge
Irish Language Cinema Workshop for Kids
2009
Kerry Film Festival
Documentary Masterclass
2009
Ionad Cúltúrtha / Cultural Centre
Cork
Cinema Workshops in Local Schools
'Súil Lán' Project
2008
New York Film Academy
Editing & Final Cut Pro Instructor
2002
MoMA / PS1
Contemporary Art Centre, New York
Cinema Workshops with Kids
2000
EXPANDED CINEMA
Dónal was one of the founding members of the Expanded Cinema collective; kinoSonik (1999-2004). For five years kinoSonik presented numerous live improvisationary expanded cinema public performances in New York including:
Parallel Worlds Cultural Platform at the opening ceremonies for Lille, Cultural Capital of Europe 2004, France
CATHEDRAL – Opening performance of the historical 48 hour web-cast orchestrated by William Duckworth
Outer Space an outdoors presentation on the Williamsburg Waterfront Organologic, 2000
P.S.1's Greater New York Reception at Galapagos,1999
Closing Reception Outer Limits Video & Film Festival, 1999
kinoSonik's 'composed' expanded cinema projects include:
The Nutty Projector – premiered at Ocularis, 2002 (90 mins) /
Luminous Space – premiered at Anthology Film Archives, 2003 (43 mins)
Document (of the Moment of It's Own Making) – premiered at Ocularis, 2004 (7 mins)
i, of k – the expanded cinema version – completed in 2009 (52 mins)